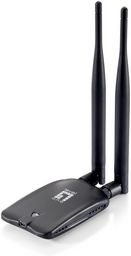 Do you find that your downloads are sluggish instead of zooming, like your internet connection speed promised? Do you get a weak signal or it keeps dropping out? Maybe you can only work on your laptop from one end of the house and not the other?
If any of these questions ring true, it may be time to extend your wifi signal range. Step through this list to determine what's best for you.
Check your speeds in various places
Check your speeds with an internet speed test. If your speed is just as slow when you're positioned next to your router as it is when you're down the hall, then your signal isn't suffering degradation, it's a different problem. You may need to update your router or PC firmware or hardware, or jump on the phone with your service provider to determine the issues.
Check which channel your wifi is operating on
If you're in a crowded signal environment and your router is sharing the same channel as other signals, you may not be getting the most out of it. Go into your router interface (check how to access it via the manufacturer website) and see how many routers you share the channel with. If you can choose a less crowded one, do so.
Update your firmware
If your router is an older model, it'll likely have had firmware software updates that would have passed you by. Check with your manufacturer if there is a newer version available. This also goes for your network adapter on board your computer – check in your Settings for the exact type and then have a look at the corresponding manufacturer's website.
Use another router as a repeater
Have a spare router hanging around somewhere? You can use it as a repeater to extend your primary router's range. Set the second router up so it is within range and configure it to be used as a wireless access point. A quick Google should be able to show you how this is done.
5 .Grab yourself a high gain antenna
If your router supports it, you can purchase an external high gain antenna to boost your signal strength. You'll need to position the ears of the antenna in the direction you want your wifi signals sent out. There are also external antennas available to plug in to your laptop if you'd like to work on the problem from the device end.
Purchase an extender or repeater
Like using the router to extend your network, you can also buy devices that are specifically for this purpose. Consider purchasing an extender or repeater: these days, extenders are more common.
Upgrade your router
Chances are, if your router is getting a little long in the tooth, it's just not able to reach the speeds which websites and streaming services expect of your download capabilities. Consider purchasing a newer router by comparing your old specs to the new ones. If there doesn't seem to be a difference, try checking to see if your network adapter (on the computer side) needs an upgrade too.