The perfect alarm system for a townhouse, unit or small house, this alarm system will allow you to monitor three separate rooms and your entrance, but still includes all the features of our advanced security kits including an internal siren and alarm monintoring.
So easy to setup: Nothing to wire, Simple to install, Requires no more than a screwdriver, Only two cables: power & phone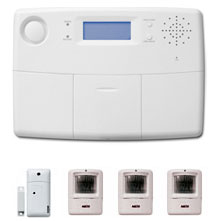 With the Small House security system you'll get:
Advanced security console
1 x Door Sensor
3 x Motion Sensors
Advanced security console
On board siren
Two security modes:
1. Away: all sensors are armed and the alarm will trip if disturbed.
2. Home: allows family members to walk around the house without setting off the alarm, yet it will alert you to someone breaking in. Perfect for adding security to your children's bedroom at night.
Dial-out function that will call up to 4 numbers with a pre-recorded message when your alarm goes off
Dial-in function allowing for alarm and home automation control
Dial in and listen to the sounds in your house through the in-built microphone; excellent for personal security and safety particularly for the young and elderly; or arm and disarm the alarm
7 day timer with 14 timer points
Ability to create 'lived in look'
The only part of our security systems which isn't wireless, the console needs electricity and a phone line connection
Door Sensor
Wireless; SWT (Secured Wireless Technology) compliant
Operates via a magnetic sensor
Can be used as both a Door and Window sensor
Perfect as a night time perimeter sensor to altert you if someone attempts to creep into your house
Small in size: 7.6x10x4.2cm
Built-in anti-tampering features
Motion Sensors
Wireless; SWT (Secured Wireless Technology) compliant
Two sensitivity settings utilising dual element Passive Infrared (PIR) technology
Built-in anti-tampering features
12 metre motion range
Operates up to 30 metres from security console
90 degree field of view
Ability to report battery status back to the console
Security System Features