Teltonika RUT955 4G LTE Dual SIM Router
The Teltonika RUT955 is a highly reliable and secure 4G/LTE router with I/O, GNSS and RS232/RS485 intended for professional applications. The device delivers high performance, mission-critical cellular communication and GPS location capabilities and is equipped with connectivity redundancy through Dual-SIM failover. External antenna connectors make it possible to attach desired antennas and to easily find the best signal location.
This unit is the most feature rich device within RUT9 router series. It comes with RutOS advanced software features such as Modbus, SNMP, TR-069, NTRIP, MQTT protocol support and custom GNSS tracking protocol that is compatible with Global AVL tracking platforms.
Hardware
Mobile: 4G (LTE) – Cat 4 DL up to 150 Mbps, UL up to 50 Mbps; DC-HSPA+; UMTS; TD-SCDMA; EDGE; GPRS
Frequency Bands: 4G (LTE-FDD): B1 (2100 MHz), B22 (1900 MHz), B3 (1800 MHz), B4 (1700 MHz), B5 (850 MHz), B7 (2600 MHz), B8 (900 MHz), B28 (700 MHz). 4G (LTE-TDD): B40 (2300 MHz), 3G: B1 (2100 Mhz), B2 (1900 Mhz), B5 (850 Mhz), B8 (900 MHz)
CPU: Atheros Wasp, MIPS 74Kc, 550 MHz
Memory: 16 MBytes Flash, 128 MBytes DDR2 RAM
Ethernet: 4 x 10/100 Ethernet ports: 1 x WAN (configurable as LAN), 3 x LAN ports
Power supply: 9 - 30 VDC, 4 pin DC connector
Inputs: 3 x Inputs (Digital, Digital galvanically isolated, Analog) + 1 Digital Input on power connector
Outputs: 2 x Outputs (30 V, 250 mA digital open collector output / 24 V, 4 A SPST relay output) + 1 Digital O.C. Output on power connector
Connectors: 1 x 4 pin DC, 4 x Ethernet, 2 x Mobile SMA, 2 x WiFi RP-SMA , 1 x GPS SMA, 1 x RS232, 1 x 6 pin RS485, 1 x 10 pin I/O, USB 2.0
Memory Card: microSD, Hinge Type slot
SIM: 2 x external SIM holders
Status LEDs: 1 x bi-color connection status, 5 x connection strength, 4 x LAN status, 1x Power
Operating temperature: -40 °C to 75 °C
Housing: Aluminium housing, plastic panels
Dimensions: 100 mm x 110 mm x 50 mm
Weight: 287g
Software
Operating system: RutOS (OpenWrt based Linux OS)
SIM switch: 2 SIM cards, auto-switch cases: weak signal, data limit, SMS limit, roaming, no network, network denied, data connection fail
Multiple PDN: Possibility to use different PDNs for multiple network access and services
Network protocols: TCP, UDP, IPv4, IPv6, ICMP, NTP, DHCP, DNS, HTTP, HTTPS, SSL v3, TLS, ARP, PPPoE, UPNP, SSH, Telnet, SNMP
Networking features: NAT, Static/Dynamic routing, Firewall, OpenVPN, IPsec, H.323 and SIP-alg protocol NAT helpers, allowing proper routing of VoIP packets
Unique networking features: VLAN, Load balancing, Mobile quota control, WEB Filter, Load Balancing, Network Backup, Auto Failover
Connection monitoring: Ping Reboot, Periodic Reboot, Wget Reboot, LCP and ICMP for link inspection
Authetication: Pre-shared key, digital certificates, X.509 certificates
Keep settings: Update FW without losing current configuration
Monitoring & Management: WEB UI, SSH, SMS, SNMP, JSON-RPC, FOTA, RMS
Supported languages: Busybox shell, Lua, C, C++
Development tools: SDK package with build environment provided
Features
LTE Cat 4 with speeds up to 150 Mbps
Dual SIM – significantly reduce roaming costs
GNSS positioning with geofencing functionality
RS232/RS485 serial communication interfaces
Multiple Inputs/ Outputs for remote monitoring and control
Teltonika Remote Management System compatible
Package Contains
Router RUT955
240V Power Supply
2 x LTE antennas (magnetic mount, SMA male, 3 m cable)
2 x WiFi antennas (magnetic mount, RP-SMA male, 1.5 m cable)
GNSS antenna (adhesive , SMA male, 3 m cable)
RS485 connector block
I/O connector block
Ethernet cable (1.5 m)
QSG (Quick Start Guide)
Packaging box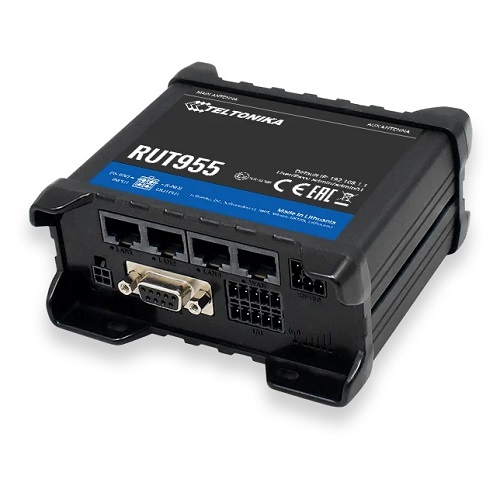 Price : $459.99