Teltonika TRB142 4G LTE Cat1 To RS232 Gateway IoT
Teltonika TRB142 RS232
TRB142 Industrial LTE Cat 1 Gateway Board is equipped with an RS232 Interface, Digital Inputs/Outputs and a microUSB port. TRB142 compact design makes this Gateway perfect for an application where a sole gadget must be remotely controlled over the RS232 Interface. It contains a high performance ARM Cortex-A7 1.2GHz processor and 128 megabytes of RAM. TRB142 is engineered to be used in Industrial applications, therefore, it has a wide range of software features such as SMS control, Firewall, OpenVPN, IPsec, RMS and FOTA support.
RS232 is an industrial standard for serial communication
LTE Cat 1 for M2M/IoT communications
Compact size, easy integration
RutOS – easy to use, secure and feature rich Operating System
Wide range of power supply voltages (9-30V)
Compatible with Teltonika Remote Management System
Hardware
Mobile: LTE (Cat1)/3G/2G
SIM slot: Mini SIM (2FF)
Antenna connector: 1 x SMA for LTE
RS232: DB9 socket, 5 pin configuration with flow control, baud rate 300 - 115200
Input/Output: 2 x Digital/Analog Inputs/Outputs (configurable)
CPU: ARM Cortex-A7 1.2 GHz CPU
RAM: 128 MBytes (50 MBytes available for userspace)
Flash: 512 MBytes (70 MBytes available for userspace)
Input voltage range: 9 - 30 VDC
Power connector: 4 pin industrial DC power socket
Configuration interface: Virtual NIC via Micro-USB connector
LED Indicators: Power, signal, network and data status LEDs
Operating temperature: -40° C to 75° C
Dimensions: 60 mm x 70 mm x 18 mm
Weight: 157.5g
Software
Operating system: Linux OS with Yocto SDK (offering high software customisation)
Network: NAT, Firewall (port forward, traffic rules, custom rules), DDNS ( >25 service providers supported)
RS232 related services: Modbus, Serial over IP, NTRIP
Remote management: RMS Support, FOTA support, SSH, CLI, SMS Utilities (status/configuration)
Status watchdogs: Ping reboot, periodic reboot
Additional features: Internet connectivity over USB virtual network interface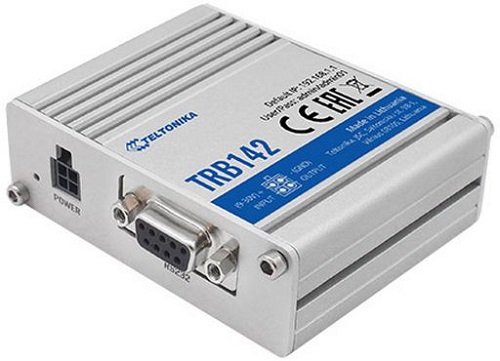 Price : $289.99
---
All prices are inclusive of GST (where applicable) and we issue tax invoices. All prices are for delivery in Australia, for overseas orders please contact us. There is a shipping fee applicable to once to all orders of $9.49.
Images of goods are provided for illustrative purposes only and the actual goods you receive may differ from the image displayed. We make every effort to supply the goods as advertised but reserve the right to supply the goods subject to minor variations in specifications, where these are changed for manufacturing purpose or to improve the product. For all domestic deliveries please allow up to 14 working days for delivery, although in most cases delivery is considerably quicker.
Please contact us directly to place an international order as postage amounts showns on our website are for shipping within Australia. For all International deliveries please allow up to 30 working days for delivery, although in most cases delivery is quicker. As an International buyer, you are liable for all the taxes and customs clearance fees that may come up. All overseas orders must be paid for via TT.
Campad Electronics is not directly liable for any loss, theft, or damages to any goods during transit.
Refund policy: Please choose carefully. We do not normally give refunds if you simply change your mind or make a wrong selection. You can choose between a refund, exchange or credit where goods are faulty, wrongly described, different from a sample shown to you or don't do what they are supposed to do.
Please note the logos and images used on this website are provided to assist you, the consumer, in purchasing. We provide these images to simplify the purchasing process; importantly the use of these logos and images in no way endorses or approves our products by the corresponding companies and brands. Each corresponding brand and trademark is registered to the related owners.