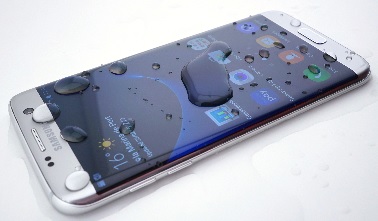 Samsung's flagship Galaxy handset returned in March 2016 for its latest outing. Released a month earlier than their usual release, Samsung, with the S7 and S7 Edge, have their Apple competitors squarely in their sights. The S7 is quite the giant slayer too.
Samsung have cleverly released the phones at a time when its competitors aren't bringing anything to the table (slated for later in the year), with the feature-set of the phones being impressive enough to wow consumers and entice them into an upgrade.
The phones have been a resounding success for Samsung so far, boosting revenue and outstripping projected sales figures.
Otterbox Cases
Lifeproof Cases
Screen Protectors
Mains Chargers
Car Chargers
Car Cradles
Bluetooth
Powerbanks
Speakers Bluetooth
So what makes the S7 pop?
One of the most cool things about the S7 isn't even the phone itself! The Gear VR headset that can be combined with the S7 allows you to instantly be immersed in movies and games with 360 degree exploration. You may look a little silly with it strapped to your head but who cares?!
Fans were also spoilt with this round of the Galaxy phones as Samsung brought back the popular waterproofing feature, and including the MicroSD slot - features both missing in the S6. The waterproofing (to IP68 certification - meaning it can withstand being under 1.5m of water for an extended period of time - up to 30 minutes) makes the phone a great choice for those of us that aren't so careful or like taking snaps in the water, and the MicroSD slot allows consumers to buy a model with smaller memory (saving money) and expand the memory themselves.
The waterproofing itself is more clever than previous other waterproofed models that had the seals over the charging and headphone jacks become useless fairly quickly, making phones not waterproof at all.
Even though the camera has less megapixels than the S6 comparatively, going from 16MP down to 12MP, they've also tricked it out so it takes truly awesome photos, especially in low light. In fact, the camera on the S7 rivals the picture quality standard set by the iPhone.
The S7 exterior
The exterior of the S7 gets a bit of a rework, designed to be more aesthetically pleasing than its most recent predecessor. The phone is slightly curved on both sides (including the 3D glass) to easily fit in the hand. The phone also features the 'Always On' function which means that the time is always displayed on the screen, so that you don't have to wake your phone up fully to just check on the time.
What's under the hood?
The phone is actually slightly different under the hood depending on the country of origin. Here in Australia we get the Exynos 8890 chipset (whereas other countries get a Snapdragon 820 chipset), which includes a two quad core processors and 4GB of RAM.
Along with the new front facing camera, it also comes with a 5MP selfie camera, a fingerprint scanner, and a beefy 3000mAh battery. The phone is capable of achieving download speeds of up to 600Mbps while on a 4G network.
The MicroSD slot is included in the SIM card tray, while in other countries this is also configurable to take a second SIM card instead. Unfortunately, this feature isn't included in the Australian models.
Must have accessories
While the phone itself comes standard with the usual accessories (i.e. phone charger and included headphones), you'll also need to grab yourself some other bits and pieces to make your phone truly functional, and make sure that you never run out of juice while on the go.
Obviously we recommend picking up the VR headset if you haven't already. Even if you don't use it often, it's just too cool an accessory to miss, plus it really isn't all that pricey.
What other accessories are you going to need for your S7? Another mains charger so that you can have one charger at home and one charger at work is a good start. You can also pick up a car charger for your drive, or an extra Samsung Galaxy S7 data cable if you already have a USB attachment for charging handy. For those who like a more stylish and cord-free charging choice you can pick up a wireless charging pad. An emergency charger or a powerbank is also a good idea if you find yourself running out of battery while you're out and about.
If you like chatting hands free then a Bluetooth headset and an in-car Bluetooth set make good additions. If you don't have very good reception at home, or while out driving you may like to get a high gain antenna to help get a better signal.
Then of course you will need a protective case to keep your phone safe and sound. The OtterBox range has multiple different options depending on your lifestyle and design choices, which you can also add a screen protector too if necessary.