The WWDC ran from June 3rd to June 7th this year. WWDC stands for Apple Worldwide Developers Conference. It's held in the San Jose McEnery Center in San Jose, California, United States.
The premise of this conference is mainly for software developers to go to sessions and meet up with 1,000 Apple engineers. However, the WWDC always starts off with product announcements from Apple, so let's go into detail of what got announced this year!
Mac Pro (2019)
The new Mac Pro was initially announced in April 2017, but during WWDC 2019, more details were revealed about the product, including its specs, price, and release date.
The newest Mac Pro will be available to order this September, but an exact release date hasn't been announced just yet.
The new Mac Pro is a bit of a beast, boasting up to 1.5 TB of RAM, workstation-class Xeon processors of up to 28 cores, an extremely powerful graphics card, and eight PCIe expansion slots. The new Mac Pro is more open to being upgraded and customized too, which has been a fault with previous Macs. The newest Mac Pro's design allows you to very simply slot in new components.
However, the latest Mac Pro comes with a hefty price tag that begins at $5,999. If you plan on ordering this Mac in September, then you'll need to break a lot of piggy banks!
Apple Pro Display XDR
As well as the new Mac Pro, a new display was also announced at WWDC 2019. Unfortunately, this new display also follows a similar cost as the Mac Pro. The standard model is priced at $4,999. There is an even more expensive option for those who want an anti-reflective nano-texture glass. This model costs $5,999.
The Apple Pro Display XDR has its reasons for the price tag, with a 32-inch screen and 6K resolution. This screen also gives you a 40% increase in screen space than the 5K displays from Apple.
Additionally, with this new display, you get 10-bit color depth and a P3 wide colour gamut, 1,600 nits peak brightness, as well as a superwide viewing angle. For those folk who don't under tech speak, this is impressive and almost warrants the hefty price tag!
iOS 13
The highlight of WWDC 2019 was the announcement of iOS 13. iOS 13 comes with plenty of performance improvements, including a decreased download size for apps, a whopping 30% quicker Face ID unlock, and an overall speed increase for launching apps. This means launching apps will be a lot quicker.
A new feature called Dark Mode will also be available in iOS 13, as well as more improved privacy settings, new photo editing and camera options, new Apple Maps capabilities, and much more. Additionally, the Music app will allow you to view lyrics in real-time, and the system keyboard will allow you to swipe type.
There are a huge number of features coming to iOS 13, but when will it be available to download? Unfortunately, a release date for iOS 13 has not been set, but it has been heavily rumoured to be coming in September 2019, which is when Apple normally announce their new iPhones.
iPadOS
The announcement for the iPadOS was leaked a few hours before WWDC 2019, but more details were revealed during the conference. iPadOS is a new operating system all iPads will now have!
iPadOS works on the same premise as iOS 13 and will share many features, such as the new Dark Mode. In iPadOS, split-screen can now open several windows from the same app, which means you can read one thing whilst editing another.
Safari is now able to support desktop websites and organize your file downloads with the Download Manager.
Also included in iPadOS is swipe gestures, which makes using your iPad much simpler and quicker. For example, pinching three fingers together lets you copy text, whilst spreading three fingers across the screen lets you paste text.
MacOS Catalina
MacOS is the operating system for Macs and MacBooks. During WWDC 2019, more details were revealed about MacOS Catalina, which is the new operating system for Macs (previously it was macOS Mojave).
A tool named Project Catalyst allows you to port iOS apps to your Mac much more simply than previously. To make third-party apps more likely to being updated by their creators, Apple has simplified its app development.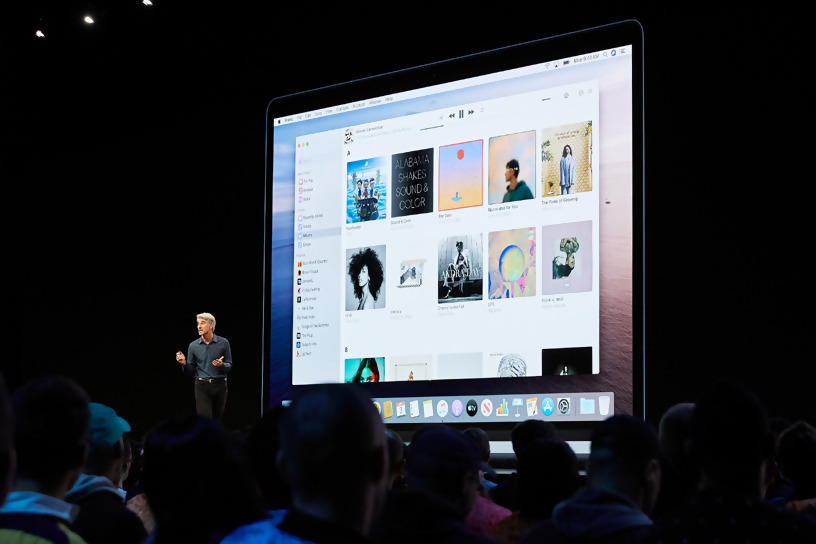 Development teams are able to create and design one app that is able to run on Macs, iPads, and iPhones. All developers need to do to apply this is check the boxes for each platform and Xcode will implement windows control and cursor control.
Sidecar is the title of the feature that will allow you to use your iPad as an additional Mac display or as a graphics tablet.
The most notable announcement during this showcase, however, concerned iTunes, which is being redesigned. iTunes is now being put into three separate apps: a Music app, a TV app, and a Podcast app. iTunes hasn't gone completely as the new Music app will still use similar features to iTunes and will run on a similar code.
watchOS 6
The operating system for the Apple Watch is watchOS. There are a few new features being added to watchOS 6. One of those is a Noise app. This app keeps an eye on noise levels and will notify you when decibels levels reach too high and could cause damage to your hearing.
Additionally, updated versions of previous Apps will be coming to Apple Watch. Audiobooks have replaced Apple Books due to the reason that you are unable to read books on the watch. The Calculator will also give you tips on calculation, as well as tips on dividing bills when you're eating out with friends or family.
One of the most interesting features of watchOS 6 is that you can now look for apps and go through lists by using Scribble typing or Siri. You can then download and pay for those apps on your watch. You don't have to use an iPhone to do this anymore!
tvOS 16
Apple announced an update tvOS 13, which is the operating system for the 4K and fourth-gen versions of Apple TVs.
tvOS 13 will now support Xbox one and DualShock 4 controllers, which is great news for gamers! Just like iOS 13, lyrics are also displaced in real-time in the Music app on tvOS 13. The home screen has also been altered in tvOS 13, with new icons for apps, as well as a preview element that allows you to watch a short clip from movies and TV shows before you select them.
Latest posts by Campad Electronics (see all)