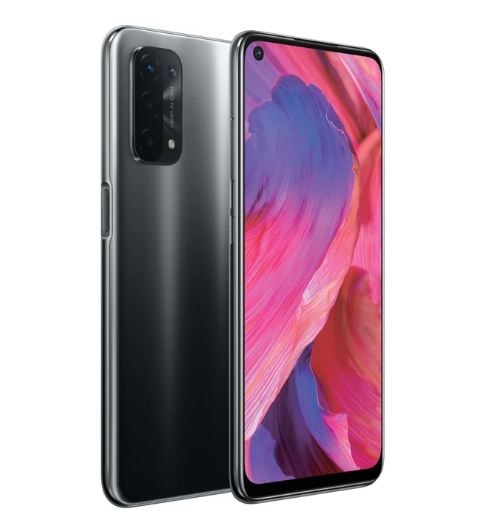 Oppo is quickly becoming the go-to for good quality, affordable phones. Among their latest releases is the Oppo A54 5G that does not deviate from this trend.
This phone, released on April 14, 2021, enjoys a number of enviable features, including 5G support. Many people are uncertain about the need for a 5G phone right now, with the coverage in the country not being on the level it should be at just yet.
Still, there is a lot more to enjoy on the Oppo A54 5G phone. What are some of its most attractive features? Read on!
Handling
The phone has nicely placed buttons and is easy to hold and manipulate, even for small hands and younger users. The right-hand side has the power and unlock buttons, while volume controls are on the left side. The fingerprint sensor is at the font, unlike most phones which have this at the back.
At the top left corner of the phone is the 16MP selfie. This is a small, un-distracting punch hole tucked away on one end.
Without a fingerprint sensor, the only features at the back are the camera lenses, which are noticeable but not jarring.
While the main camera is good enough, the secondary colours are nothing to write home about and lack the optical zoom feature. The cameras also underperform in low light.
You can get the Oppo A54 5G in Fantastic Purple or Fluid Black. The phone's plastic matte casing also changes colours when you tilt it against the light, which is fun.
Display
The phone's 1080 x 2400 IPS LCD screen sits on the phone's 6.5-inch body. The display is edge to edge, making it perfect for gamers and people who love stream content. In addition, its 1080x 2400 resolution gives you fresh, crisp images that enhance the experience.
The screen is colourful, bright with 100% DCI-P3 Gamut and Gentle 100% +SRGB, which are rather surprising for the phone's price. In addition, it has a 90 HZsetting offering a 180HZ touch sensitivity.
Battery Life
A 5000mAhbattery that does not require consistent charging butwithout the need to charge it regularly.
From this, you get 27 hours of calling time, 13 hours of video viewing and can do 40 hours on standby.
With its super power-saving mode, you can get 1.1 hours of chatting on WhatsApp at 5% battery power. Fully powered, the phone can last an entire day, even with heavy use.
Performance and Specs
The Oppo A54 5G is powered by the Qualcomm Snapdragon 480. This is basically an 8-core chipset manufactured using an 8-nanometer process technology.
This chipset makes the phone more inspiring, though it's 4GB of RAM and slows the phone down significantly. You can still multitask on it, but heavy-duty multitasking can create a lag.
It only comes with Tik-Tok pre-installed, making it ideal for someone looking for a phone they can customize for themselves.
Yay Or Nay?
This phone is very similar to Oppo's A74 5G we reviewed earlier but the A74 has more RAM as well as more storage and also has an 18W fast charger for just $49 more. The A54 5G lacks the powerful cameras we see in most phones today. As mentioned above it also does not have the fast charging feature nor wireless charging.
However, if you need a reliable phone with a fair battery life and not too fussy about photography, this phone would be a great buy at around $385.99 to $399.99.
Latest posts by Campad Electronics (see all)