Apple has never labeled "Pro" on an iPhone as it would on iPads or MacBook's. But they broke this trend this year. Pro essentially implies enhanced processors and larger screens. Although the iPhone 11 Pro has the same processor as the iPhone 11, its screen is larger.
One advantage of the Pro over the iPhone 11 is that a supplemental camera is available on the iPhone 11 Pro and is included in the compelling 3-camera design behind the iPhone 11 Pro.  In contrast, there is no telephoto camera on the iPhone 11.
iPhone 11 Pro is the finest iPhone this year because it has somewhat better antennas, improved battery performance, the OLED screen is of higher quality with an additional telephoto sensor and an 18-watt power brick in the box.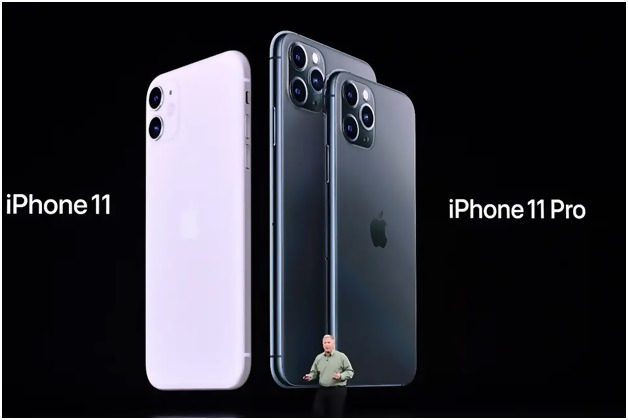 Price and Size?
The iPhone 11 Pro comes with a 5.8 inch screen while the Pro Max has a 6.5 inch display. For anyone who needs a phone as a good monitor for photos and video, the larger Max model also contains more pixels. The bigger Pro Max should also receive about an hour of extra battery but remain tuned for battery testing. Going bigger cost about an additional $100. For the pocket size and easier one-hand use, I love the 5.8-inch one, but phablets have their own supporters.
Colour
Colours for this year? All of them are industrial metal shades. I like the green-gray look of the midnight green, but I'm usually a space gray guy. The matte glass back is an aesthetically improved version of the standard iPhone 11. However, it still slides off way too easily. Most of you will put a case on iPhone 11 Pro still after spending this much amount of money.
Telephoto Camera
The telephoto camera has introduced Night Mode and features the same video quality as the wide camera. Both of these can be interchangeably used. The ultra-wide camera has its own distinctive characteristics even if it lacks the incredible Night Mode, but more options are available on the three cameras. This year's iPhone 11 Pro have two types of Portrait mode: the original zoomed-in type and the pull-back wide type that the iPhone XR offered last year.
Battery Life
Longer battery life? yes, please!!! Last year's iPhone XS and XS Max lagged behind in battery life and the iPhone XR stuck out. This year, Apple is saying that they added an additional 4-5-hour battery time on its iPhone 11 Pro. I've discovered that the iPhone 11 Pro certainly lasts longer this might be one of the primary factors to go for the Pro. And if you want or need bigger battery life, that's one of the primary factors for choosing the iPhone 11 Pro Max.
Haptic Touch
This function utilizes gentle clicks when you press your thumb on the screen to look as if you're pressing it down. And iOS 13 installed on iPhone 11 and iPhone 11 pro this year-substituted the app's pop-up menu when you press into the screen. Those looks and pop-up movements now seem to take some time. I miss the 3D Touch, but I didn't need that anyway. Apple never figured out how iOS can be developed to maximize it.
Things That You Need For Your Fresh iPhone
Protective Cases:
iPhone 11 and iPhone 11 Pro are covered with very resistant glass, so if you want you can keep them uncovered. However, the occasionally bump, bang or ding does happen, so a case is a smart option.
One of our favorite models is the Shockproof TPU And Acrylic Protective Case. It's highly affordable at $19.99. It has a slim profile, a fluid finish and sufficient coating in the corners to protect your phone in case of falling. Our second smart selection is the Wallet Case ($19.99) a case that doubles as a card holder.
If you wish to display your nice fresh device, it is evident to have a clear case. The Case-Mate Twinkle Case Stardust is a much more appealing case and it has a bit extra grip so that your new phone won't slip that easily out of your hands.
 Wireless Chargers:
Belkin BOOSTUP Wireless Charging Dock Black ($229.90) wasn't exclusively made for iPhone 11, but it'd be a good accessory for iPhone 11 Pro as well. It is a cable-free (wireless) charger that allows multiple devices to be charged in one go. The dock supports Nightstand mode for the Apple Watch to enable the alarm clock feature as it charges.
Air Pods:
Apple Air Pods now features an enhanced H1 processor in its latest 2nd generation model. This means that AirPods now have up to 5 hours of single charge listening time and an increased 3-hour talk time. AirPods seamlessly incorporate with your Apple environment and can move from your MacBook Pro to the iPhone 11 Pro without a Bluetooth interface.
Fast Chargers/Power Bricks:
All new iPhones (from the iPhone 8 upwards till iPhone 11 Pro) can charge quickly, but iPhone 11 Pro and the Pro Max are the only ones that have a quick 18W charger inside their box. The iPhone 11 will, however, be equipped with the same 5W charger bundled with the iPhone since 2007. You can get a little more expensive with the 27W Belkin BOOSTCHARGE Silver which is also a rapid charger. This is a relatively small and compact charger.
Why Buy iPhone 11 Pro?
iPhone 11 Pro has better camera than its predecessors
It has better quality.
iPhone 11 Pro is relatively faster than iPhone X
It has better battery life when you compare it with other apple models.
Upgraded features of iPhone 11 Pro are comparable with this year's iPhone.
iPhone 11 vs iPhone 11 Pro
Design
iPhone 11: 75.7 x 150.9 x 8.3mm
iPhone 11 Pro: 71.4 x 144 x 8.1mm
Display
iPhone 11: 6.1-inch Liquid Retina, 1792 x 828
iPhone 11 Pro: 5.8-inch Super Retina XDR, 2436 x 1125
Rear Camera
iPhone 11:
Camera 1: 12MP wide, f/1.8, OIS
Camera 2: 12MP ultra-wide, f/2.4, 120-degree FOV
iPhone 11 Pro
Camera 1: 12MP wide, f/1.8, OIS
Camera 2: 12MP telephoto, f/2.0, OIS, 2x optical zoom
Camera 3: 12MP ultra-wide, f/2.4, 120-degree FOV
Battery And Charging
iPhone 11: 1 hour longer than iPhone XR
iPhone 11 Pro: 4 hours longer than iPhone XS
iPhone 11 or iPhone 11 pro?
I've decided I'm staying with the 5.8-inch iPhone X for now as it's under contract, as it is simple to work with it is compact and has great camera performance. This makes me even more fond of the iPhone 11 Pro because the life of the battery is good enough to last almost a full day. The way I use my phone, I had to give iPhone 11 Pro a bit of a top-off before I was comfortable. It's more costly, but iPhone 11 Pro looks like the iPhone X formula's perfected iteration.
Latest posts by Campad Electronics (see all)