Home > Mobile Phone Accessories > Samsung Accessories > Samsung Galaxy S7 Edge

Strike Alpha Samsung Galaxy S7 Edge Wireless Charging Cradle DIY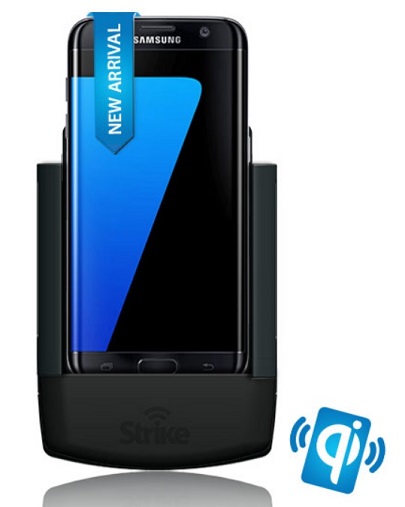 Introducing the latest addition to Strike's wireless charging car cradles - the Samsung Galaxy S7 Edge Wireless Charging Phone Holder! This S7 Edge Car Mount has been designed to support the wireless charging capability of your new Samsung Galaxy S7. No need to plug a cable into your S7! This S7 Phone Holder supports the WIRELESS CHARGING capability of your mobile device. Upon installation of the Galaxy S7 Edge Wireless Charging Alpha Cradle in your vehicle, you can pop your phone into the cradle to enjoy superior charging whilst you are on the road! Utilise your device for longer hours without worrying about battery drain! Safe, legal & very convenient to use. Purchase one today!
And, to make sure that you always have strong signal reception, connect your phone holder with one of our antennas!
The internal passive antenna of the Samsung Galaxy S7 Edge Car Dock is specifically incorporated to improve your mobile signal once used with a reputable external antenna. The cradle comes with a FME male connector so it can be connected to an external antenna.
Up to 2 amps output.
Works with any Bluetooth car kit for seamless integration for your current set up!
Multiple mounting options.
Supported by an impressive 3 year warranty!
Internal passive antenna is specifically tuned for Australian networks the cradle omes with FME male for external antenna connection.
When the best in mobile coverage is required, choose a Strike Alpha Cradle. This Australian made cradle has been engineered to withstand Australian Conditions.
These mobile cradles offer total security, letting your phone sit deeper in the cradle than any other solution on the market. This allows for additional side and front impact protection, while still providing great screen access.
Its unique design allows for the phone to sit flush against the passive antenna, providing superior signal boosting performance.
The Strike Alpha cradle range comes with a windscreen mount and has multiple mounting solutions, ensuring that you can mount your cradle wherever you deem best. From windscreen mounts, dash/swivel mounts to console mounts, you're sure to find an option that suits you and your vehicle.
The holder accepts 12/24 volt charging with voltage spike protection. It is fully pass-thru compatible with all of the data pins active allowing you to use your Strike Alpha Cradle with your in-car entertainment unit, car kit, or your computer! Every Strike Alpha Cradle comes with a 3 year unlimited KM warranty. This package includes a windscreen mount and cigarette lighter charger and is a DIY install cradle.
Features
With Wireless Charging capability.
The phone holder can be integrated to another device without any hassle. With its unique pass through feature, the cradle can be linked to any Bluetooth car kit system, entertainment system or even personal computers.
It carefully protects your Samsung Galaxy S7 Edge while you enjoy prolonged usage since your handset is also charging while attached into the cradle.
This car cradle features a 12/24 volt charging system with voltage spike protection.
It can be paired with an external antenna to boost your phone's reception.
Especially designed to ensure that your S7 Edge is perfectly integrated with the passive antenna connection. Thus, providing superior signal boosting performance not an ordinary cradle can offer in the market today.
The internal passive antenna booster is specifically tuned for Australian networks including Telstra Next G and all 4G. Comes with FME male for external antenna connection.
Works with any Bluetooth car kit.
Designed, engineered and made in Australia for Australian conditions.
Unique Patent Pending Design.
3 Year Unlimited KM warranty.
Includes a windscreen mount. Other Mounting Options are available for purchase.Multiple mounting options including no holes mount.
Package Contains
Strike Alpha Car Cradle
Windscreen mount
Cigarette lighter power supply
Quick start guide
Mobile Phone Not Included.
For enterprise customers, email campad@campadelectronics.com.au to discuss quantity pricing.
Price : $184.99